16 Channel 1.5 Tesla Super Conduction
16 channel 1.5 Tesla Super Conductive M.R.I.

Salient Features

Fastest Scanning
All Routine Applications
M.R Angiography
M.R Venogram
M.R Spectroscopy/MRCP
S.W.I(For Micro Bleeds)
Body Prostate Spectroscopy
Whole Spine Imaging in 5 minutes
Shortest Magnet(No Claustrophobia)
Cartilage Mapping for Joints
M.R Arthogram
Whole Body Spine/Diffusion
Healthcare providers worldwide are under increasing pressure to manage two contradictory forces: delivering highest-quality care with ever decreasing financial means. The number of MRI scans continues to rise, as MRI continues to prove its diagnostic value and expands growing clinical fields. At the same time, global reimbursements continue to fall. MAGNETOM Aera is 1.5T MRI designed to turn these c
hallenges into opportunities.
Deliver exceptional quality and speed
Go for consistent results, efficiently
Expand your MRI services
Service and exchange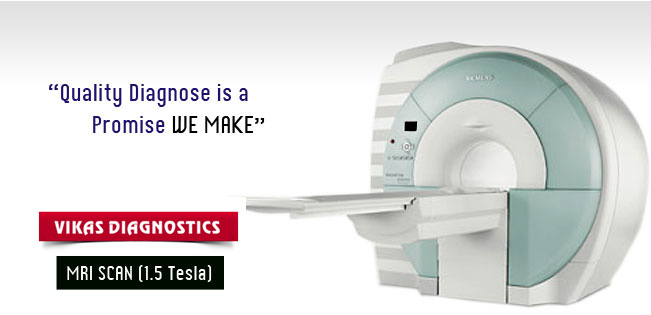 Deliver exceptional quality and speed

Growing healthcare expenditures and changing patient populations lead to an increased demand for standardization and higher efficiency. With a full range of routine and advanced applications, MAGNETOM Aera allows you to answer these challenges. Improve your processes through greater standardization and extend your clinical capabilities by offering new services.

Make the most of your MRI scanner and improve cost efficiency by accelerating scans for each and every patient. GOBrain enables clinically validated push-button brain examinations in under six minutes. This is enabled by Tim 4G's ultra-high coil element density, delivering exceptional quality and speed for efficient processes, day-in and day-ou

Best-In-Class Open High-Field MRI
Vikas Diagnostics is committed to providing the best medical diagnostic imaging available by offering the patient and referring physician a choice for their MRI imaging. Most facilities offer either High Field or Open MRI and have no option but to promote that equipment. Our many years of experience with both MRI systems at ot
her facilities convinced us that High Field MRI is preferable whenever possible. However, for those patients who cannot be evaluated in a High Field system, the next best patient care choice is our Open MRI. Patients who are referred to our facility can be assured they will be matched to the appropriate magnet so the best study will be performed.
During the examination you will not feel anything unusual. You will, however, hear a repeated drum-like knocking sound as the scans are recorded. Feel free to bring along your favorite CD or cassette tape to listen to during your scan to make yourself comfortable. Hearing protection will be provided to those patients who do not wish to listen to music.
You can help to produce high quality images by lying still during the examination while breathing normally. The average scan takes 5 to 15 minutes – the complete examination about 30 to 45 minutes – during which time several dozen images will be produced.
With incredible accuracy, MRI can detect many abnormalities which CT scanning and X-rays cannot, especially those involving soft tissue. In fact, MRI reduces the need for biopsies, exploratory surgery, and other diagnostic procedures which carry associated risk.
MRI is a totally painless procedure with no known side effects. Because no radiation or radioactive substances are used, patients requiring frequent scans avoid the potential danger of cumulative radiation exposure.
AIRIS Elite combines the renowned reliability, cost-effectiveness and patient comfort of the AIRIS II with throughput and capabilities previously not seen at Open low-field. The proven performance of AIRIS Elite's vertical field permanent magnet with higher-order active shim technology, Scalable DualQuad RF system, and broad sequence capabilities are all integrated through Hitachi's unique approach to optimize system performance.
AIRIS Elite continued the tradition of Hitachi's leadership in Open MR technology, providing new capabilities to low-field MRI including parallel imaging and RF fat saturation.
All the Economic and patient comfort features of AIRIS II plus:
Higher Order Active Shim enables RF fat saturation at 0.3T
21mT/m and 55T/m/s gradients for high resolution and fast scan time
RAPID parallel imaging for shorter scan times